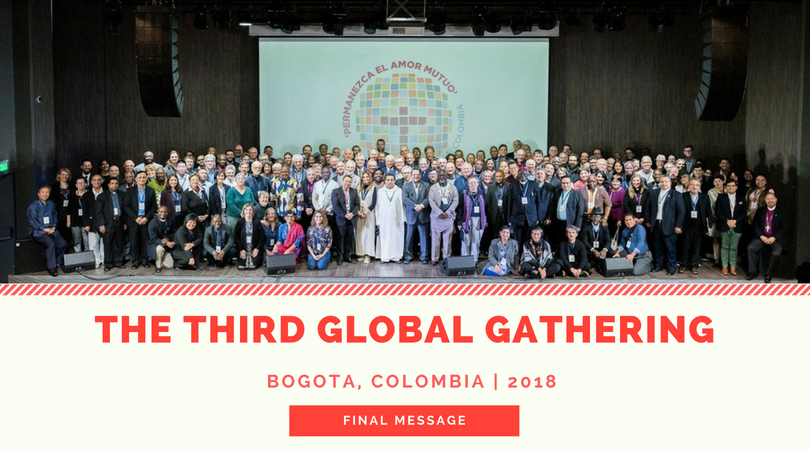 Christians are called to take up together the challenges of peace, unity and costly discipleship the Global Christian Forum has said in a 27 April closing Message to the churches of the world sent from Bogotá, Colombia.
The Forum, which connects the broadest range of global Christianity, held its third Global Gathering in the Colombian capital from 23-27 April, under the theme 'Let mutual love continue'(Heb 13:1). It brought together the widest variety of Christian traditions, with 251 church leaders from nearly every stream of global Christianity and 55 nations.
Against the backdrop of growing division in the world, the 'meeting itself became a message' of careful listening and respectful engagement across barriers of old enmities and historic separations.
In recognition of the churches of the host nation, the Message said participants
"have listened to, and been inspired by, witnesses working for peace. We pray that the peace process may continue in Colombia and bring hope and reconciliation to those who are suffering and struggling."
Participation in the Global Gathering included delegations from the Catholic Church (Pontifical Council for Promoting Christian Unity), the Pentecostal World Fellowship, the World Council of Churches, and the World Evangelical Alliance together with those of many other Christian World Communions and international Christian organizations.
To Read, please click on the link below. The message is written in English, French, and Spanish.
Message_Final_FR Message_Final_ES Message_Final_EN
To visit the GCF's Website, click the link below.
http://www.globalchristianforum.org/news/take-up-the-challenge-of-mutual-love-urges-gcf