To care for God's precious gift of creation and to strive for ecological justice are key principles of just peace. For Christians they are also an expression of the gospel's call to repent from wasteful use of natural resources and be converted daily. Churches and their members must be cautious with earth's resources, especially with water. We must protect the populations most vulnerable to climate change and help to secure their rights.

World Council of Churches, An Ecumenical Call to Just Peace, page 12
Disciples of Christ's Creation Ministries
 Green Chalice
The purpose of the Green Chalice Program is to encourage and assist local congregations/DOC Offices and Assemblies who wish to live out their faith by caring for creation. This program is designed to recognize congregations for being good stewards of God's creation. It also aims to empower congregations/assemblies with ideas and resources to enable them to walk gently on the earth. For more information, click here.
Resource: Green Chalice Brochure (Caring for God's Creation; Living Out Faith; Stopping Climate Change)
World Council of Churches Ministries
Time for Creation
September 1 to October 4 is Time for Creation.
The beginning and the end date of Time for Creation are linked with the concern for creation in the Eastern and the Western traditions of Christianity, respectively. For more information, click here
Creation Justice Ministry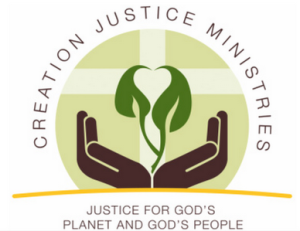 Creation Justice Ministries educates, equips and mobilizes Christian communions/denominations, congregations and individuals to protect, restore, and rightly share God's Creation. For more information, click here.
Roman Catholic Church
Encyclical Letter LAUDATO SI' of the Holy Father Francis on Care for Our Common Home
"I believe the significance of the papal Encyclical Laudato Si' is not limited to the subject of ecology as such. I see in it an important ecumenical dimension in that it brings the divided Christians before a common task which they must face together. We live at a time in which our fundamental existential problems overwhelm our traditional divisions and relativize them almost to the point of extinction… Pope Francis' Encyclical is a call to unity–unity in prayer for our environment, in the same Gospel of creation, in the conversion of our hearts and our lifesytles to respect and love everyone and everything given to us by God. We are thankful for that." (Metropolitan John Zizioulas of Pergamon, a representative of Patriarch Bartholomew I, from Thomas Ryan, CSP, Christian Unity: How you can make a difference, Paulist Press, 2015)