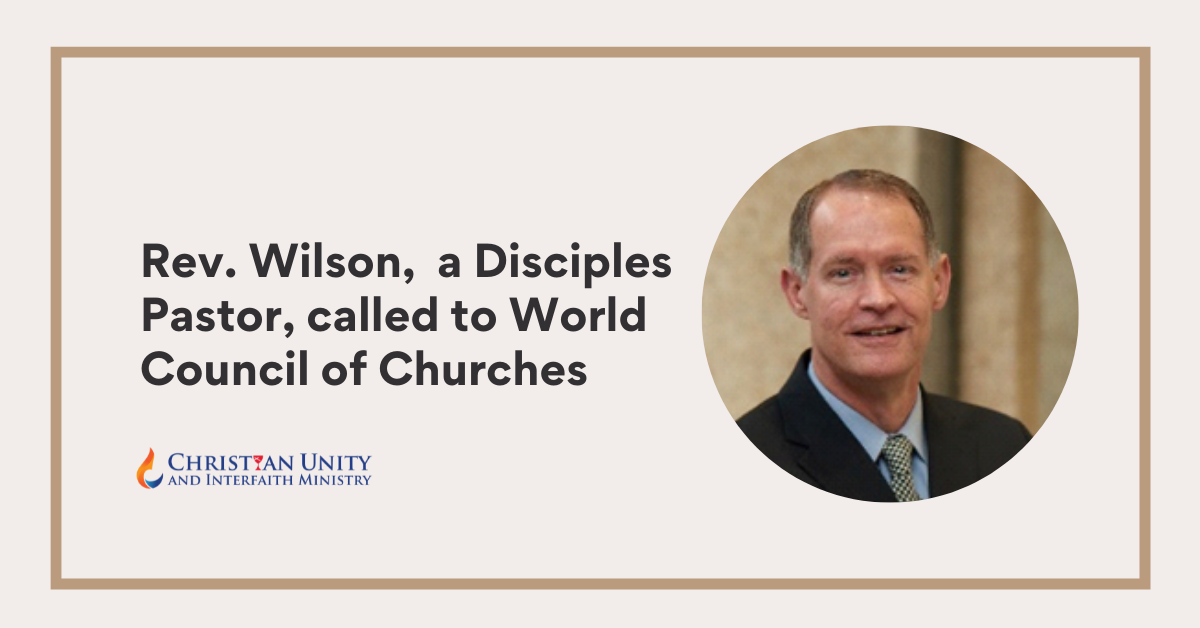 (2021, Indianapolis, CUIM) The Reverend Nathan Day Wilson, a Disciples pastor and most recently, the director of Communications at Christian Theological Seminary, has been called to the World Council of Churches (WCC), based in Geneva, Switzerland.
He begins Monday, June 21, in a newly created position where he will head both income development and program evaluation for the WCC's programs in unity, peace, and justice throughout the world. His title is Manager of Income Development and Planning, Monitoring, Evaluation, and Reporting.
"While the scope of work will be challenging, I'm eager to be part of the WCC's collaborative work for unity, justice, and peace. In a time so divided by allegiance to false gods such as money and power, by acts of lovelessness and hatred, and by lines drawn between people according to worldly standards, a witness to God's intended wholeness is needed more than ever," Wilson said. Wilson will also work on a book surveying the ecumenical social thought and theology expressed in the WCC's statements on international affairs. "I contend that the ecumenical movement has yet to fully develop the theological undergirding of its ethical commitments or the theological insights implicit in them," said Wilson.
Ecumenical ministry is not new to Wilson. During his tenure as Executive Director of the West Virginia Council of Churches, the organization added its first two historic African American denominations, moved into its own building, expanded staff, quadrupled income, and developed wide-ranging service and education programs.
Wilson also served as Director of Public Policy for Washington DC-based Sojourners and manager of its national network of organizations working to overcome poverty, dismantle racism, and build healthier communities. For eleven years he coordinated the Faith & Values section of The Indianapolis Star. He pastored congregations in Kentucky and Indiana.
Wilson is a prolific author with more than 600 publications, and an occasional college lecturer, and a regular workshop leader at pastor's conferences. As a volunteer, he is president of the Ecumenical Community of Chautauqua and a board member of the Center for Interfaith Cooperation.
After completing his bachelor's degree at Asbury University, Wilson earned a Master of Divinity from Lexington Theological Seminary, a certificate in Ecumenical Studies from the Ecumenical Institute de Bossey, and a Master's in International Security from the University of Geneva, Switzerland. He holds the Fundraising Management certificate from The Center on Philanthropy at Indiana University.
When asked for a one-line description of his new call, Wilson said,
I will 1) create frameworks, including funding and staff, that enable cooperative and collaborative work across 350 member denominations and like-minded civil society partners in the areas of unity, justice, and peace; 2) monitor and evaluate all WCC programs, whether they emanate from Geneva or are located around the world; 3) identify and pursue new sources of revenue and new partners for common witness; and, 4) research and write about the theological insights and implications embedded in ecumenical social thought and moral discernment.
Follow Wilson on Twitter: @nathandaywilson
If you want to read his past interview with the WCC, please visit here