Sixth Phase of Dialogue (2021-2027)
Through the conversations in the previous phase, both communions affirm once again our hope to share together at the Eucharistic table one day. As the fifth phase concluded in 2018, the commission realized that after our forty years of dialogue, the commission has not sufficiently explored the Holy Sprite's work in relation to our unity and the oneness of the Church. At the "core group" meeting in January 2020 in Indianapolis, USA, the core group proposed that the sixth phase's topic is to be "The Ministry of the Holy Spirit" based on the Second Corinthians chapter 3.
First Introductory Session
June 24, 2021
Zoom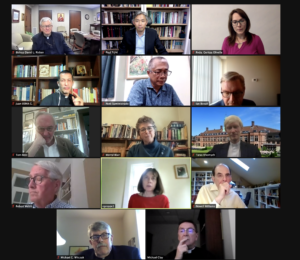 Second Introductory Session
September 30, 2021
Zoom
News release
Third Introductory Session
May 10, 2022
Zoom
Document Packet: Disciples of Christ: A Brief Description
News release
First Session
June 24-29, 2022
St. Anne's Retreat Center, Melbourne, Kentucky, USA
The topic of the meeting: "The Role of the Holy Spirit in the Life and Mission of the Church"
News release, "Disciples-Catholic International Dialogue First Session"
Messenger, Newspaper of the Diocese of Covington, Article about the First Session, Issue of July 15, 2022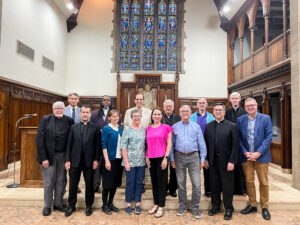 Second Session
June 24-29, 2023
Domus Romana Sacerdotalis, Rome, Italy
The topic of the meeting: "The Holy Spirit as Gift"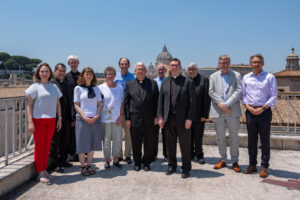 Fifth Phase of Dialogue (2013-2018)
For over 25 years, Disciples and Roman Catholics have been in dialogue, looking to the hope of realizing full visible unity in Christ. The fifth phase of the dialogue has been approved to begin in 2013 on the theme, "Christians Formed and Transformed by the Eucharist."
Agreed Statement from This Phase
Commentary by Rev. Dr. Mark G. Toulouse on the Final Report
Catholic Commentary by Fr. Gilles Routhier
First Session: Nashville, TN, USA; January 2014
Second Session: Rome, Italy; June 2014
News Release: Disciples – Catholic Dialogue Explores Being "Formed by the Eucharist"

Third Session: Bethany, WV, USA; June 2015
News Release: Catholics and Disciples of Christ Commission for Dialogue

Fourth Session: Calgary, AB, Canada; June 2016
News Release: Catholics and Disciples Commission for Dialogue

Fifth Session: Bayamón, Puerto Rico; June 2017
News Release: Catholics and Disciples Commission for Dialogue

Sixth Session: Green Bay, WI, USA; June 2018
News Release

The final report was drafted and was shared with both communions for further reviews.
Fourth Phase of Dialogue (2003-2008)
Agreed Statement from This Phase
The Presence of Christ in the Church with Special Reference to the Eucharist, 2009

First Session: Bari, Italy; December 2004
News Release: "An Advent Dialogue": Disciples and Roman Catholic Launch New Phase of International Dialogue

David M. Thompson (Fitzwilliam College – Cambridge, UK) Background
Robert Louis Wilken (Christianity University of Virginia – Washington, DC) The Non-Eucharistic Presence of Christ in the Church
Second Session: Indianapolis, Indiana, USA; December 2005
News Release: Growing convergence marks Disciples/Catholic Dialogue

Bible Study: Fr. Abbot Denis Farkasfalvy (Our Lady of Dallas Abbey, Dallas, Texas) The Eucharistic Presence from a Biblical Perspective
Bible Study: Merryl Blair (Churches of Christ Theological College – Mulgrave, Victoria, Australia) The Prodigal Gift: Bread of Life and the Eucharist
Margaret O'Gara (University of St. Michael's College – Toronto, Canada) The Presence of Christ in the Eucharist: A Roman Catholic Understanding
William Tabbernee (Philips Theological Seminary – Tulsa, Oklahoma) The Presence of Christ in the Eucharist
Third Session: Rome, Italy; June 2006
News Release: Disciples-Catholic dialogue focuses on unity in Christ

Bible Study: Merryl Blair (Churches of Christ Theological College – Mulgrave, Victoria, Australia) Unity in Christ: One Faith, One Baptism and the Eucharistic Koinonia
Fr. Abbot Denis Farkasfalvy (Our Lady of Dallas Abbey, Dallas, Texas) Unity in Christ: One Faith, One Baptism, and the Eucharistic Koinonia
Michael Kinnamon (Eden Theological Seminary – St. Louis, Missouri) Unity in Christ: Baptism, Faith, and the Eucharistic Koinonia
Fourth Session: St. Louis, Missouri, USA; June 2007
News Release: Disciples-Catholic Dialogue Explores the Relationship of Word and Sacrament

Bible Study: Gosbert T.M. Byamungu (Pontifical Council for Promoting Christian Unity) Walking Home with a Stranger: The Riddle of Emmaus
David M. Thompson (Fitzwilliam College – Cambridge, UK) Word and Sacrament with special reference to the Eucharist – a Disciples Perspective
Robert Louis Wilken (Christianity University of Virginia – Washington, DC) Word and Sacrament
Fifth Session: Vienna, Austria; June 2008
News Release: Disciples-Catholic Dialogue Explores the Presence of Christ in the ministry of the Church

Bible Study: Merryl Blair (Churches of Christ Theological College – Mulgrave, Victoria, Australia) "According to the Order of Melchizedek": Hebrews 7 and the Priesthood of Christ
James O. Duke (Brite Divinity School – Ft. Worth, Texas) The Priesthood of Christ in Church and Ministry: A Disciples Perspective
Aidan Nichols (Blackfriars – Cambridge, UK) The Priesthood of Christ in Church and Ministry
First Three Phases (1979-2002)