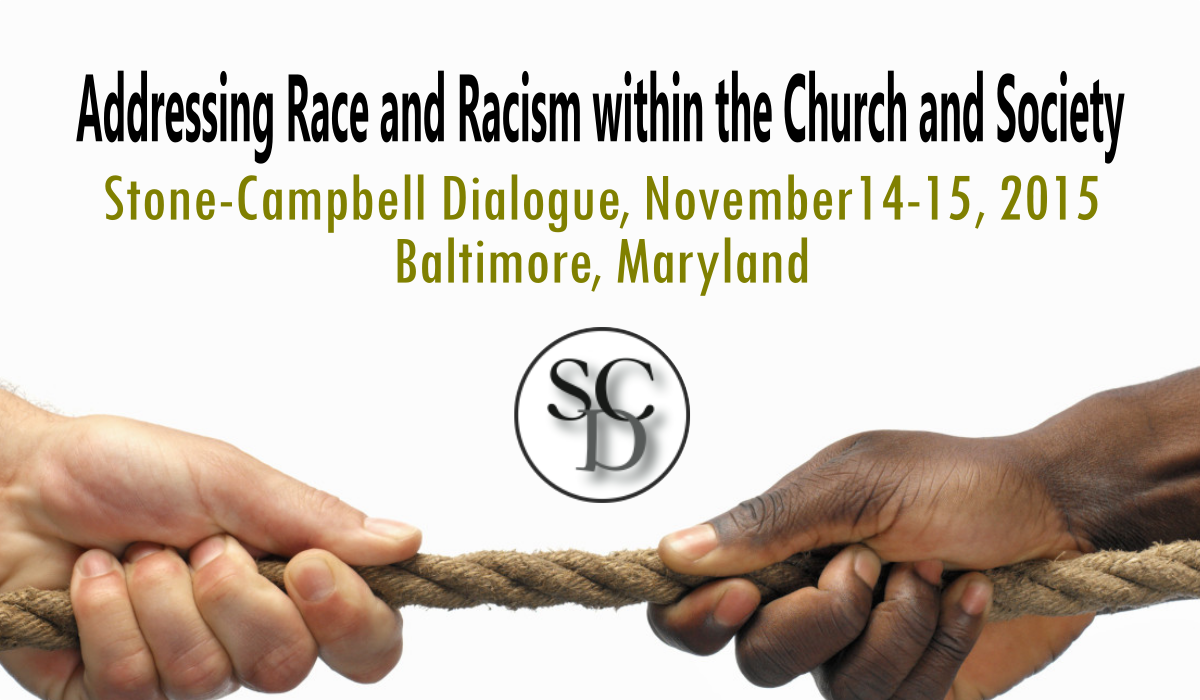 Invitation to participate in the
Stone-Campbell Dialogue, November 14-15, 2015
Baltimore, Maryland
Addressing Race and Racism within the Church and Society
The Stone-Campbell Dialogue began in 1999 as an effort to develop relationships and trust within the three streams of the Stone-Campbell movement through worship and through charitable and frank dialogue, 'that the world may believe .' In cities across the United States, the Dialogue has brought Christians from Churches of Christ, Christian Churches/ Churches of Christ, and Disciples of Christ together to examine matters that divide us and matters that unite us. In light of rising tension surrounding issues of race and racism in the United States, the Stone-Campbell Dialogue has committed to bring leaders and members from these churches together to learn from one another how the church can be God's agent for true racial unity.
This year the Stone-Campbell Dialogue is partnering with the Racial Unity Leadership Summit (RULS), a national program of the Churches of Christ-focused upon inspiring unity among people of different races and cultures. This program is giving voice to a burning desire in our nation and in our communities for genuine reconciliation with God and among all people. There is no entity on earth better positioned to heal the racial division in our land than the church.
Hosted on Saturday, November 14, by Mountain Christian Church, and on Sunday evening, November 15, by the Westside Church of Christ, this experience will provide a forum for national and local leaders and members in the Baltimore area to share insights on how to develop sustainable steps for greater reconciliation and racial justice. (See the full program below.)
The planning committee for this event hopes that the outcome of this session of the Dialogue will be the development of proven, practical steps that can heal wounds, bridge divides, and inspire a future of unity to the glory of God.
Saturday, November 14:
Mountain Christian Church, 1824 Mountain Rd Joppa, MD 21085 (410-877-1824)  
Dr. Jerry Taylor of Abilene Christian University serves as the RULS director.
Don McLaughlin, preaching minister of the North Atlanta Church of Christ in Atlanta, Georgia will serve as the program director for the Baltimore Stone-Campbell Dialogue/RULS.
9:00 am – Opening Worship
9:30 am – RULS Program:
–  Daryl Reed – Lead Pastor of DC Christian Church – "That the World May Believe"
–  Doug Foster – Professor of Church History – Abilene Christian University – "The Great Deception: How Satan Created Our Perceptions of Race and Deprived Us of Christian Unity."
–  Travis Stanley, Pastor of Norwalk Christian Church (Disciples of Christ), Norwalk, Iowa "Disrupting White Supremacy from Within"
(12:00 pm – Lunch provided at Mountain Christian Church for $5.00 per person)
–  Travis Hurley, Vice President of Development, Ozark Christian College, Joplin, Missouri – "The Next Generation Must Be Better"
–  David Fleer – Professor of Bible and Communication – Lipscomb University –
"How to Talk About Racism: The Art of Scapegoating"
3:15-4:30 pm – Panel Presentation: Local leaders share their experiences of racial strife and healing
– Lawrence Rodger: Minister, Westside Church of Christ
– Beverly Goines: Assistant Pastor, National City Christian Church (Disciples)
– Ben Cachiaras: Senior Pastor, Mountain Christian Church