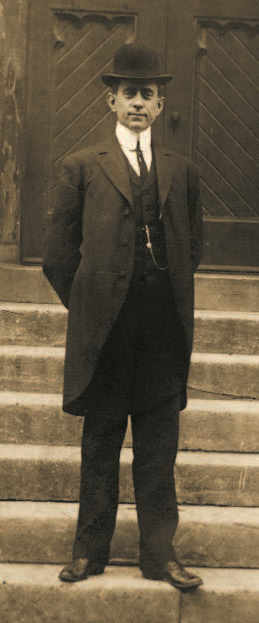 Peter Ainslie III was a catholic Christian. He was historically aware and globally engaged in the universal Church; he was intimately and locally involved in his life of prayer and service.
His own history began on June 3, 1867, in Dunnsville, in the Tidewater area of Virginia. Ainslie attended Transylvania College and the College of the Bible. His mother's contagious love of books led him to be a lifetime scholar. Although a letter from Decima Barclay, daughter of Alexander Campbell, expressed her desire that he follow her father's lineage by becoming president of Bethany College, he remained a local pastor.
His congregation, which he served for more than 29 years, was Christian Temple in Baltimore. For two decades he was a well-known participant in global ecumenical events, including the historic opening conference of the twentieth-century ecumenical movement, the World Missionary Conference, 1910 in Edinburgh. He later emerged as a central figure in the Faith and Order movement. John R. Mott said of him that he was among the "twelve apostles of the modern ecumenical movement."
Peter Ainslie's lasting legacy is his forming the Council on Christian Union of the Disciples of Christ. It occurred in Topeka, Kansas, in 1910, at the International Convention where Ainslie presided as president of the American Christian Missionary Society. In his presidential address, he called for Disciples to claim their special place in the wider church by becoming contributors to the wholeness of the church universal. "(F)ifty years hence the Disciples of Christ will look back on this convention as one of the most eventful in our illustrious history because at this convention a definite program has been launched." Ainslie led the Council until 1924.
Ainslie once wrote, "When I sometimes go through the Temple auditorium alone, somehow I cannot get away from observing the worn carpet on the pulpit platform, just back of the desk, and I find myself asking, O that I had a place so marked by my knees in prayer for my people, as I have marked by my feet in preaching to them." For Ainslie, what you believe is secondary to whom you believe. His prayers, and those of his successors in the Council on Christian Unity, stand as a witness to spirituality being the heart and soul of the ecumenical movement and the key to ecumenical advance.